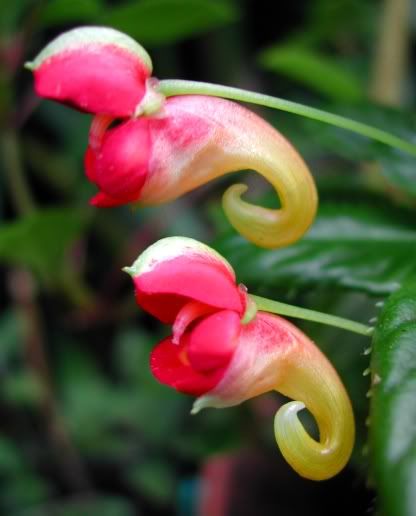 If you hike through the rainforests of Mt. Kilimanjaro - the tallest peak in Africa - you might come across this enchanting gem. The Kilimanjaro Impatiens - Impatiens kilimanjari - is found nowhere else in the world except the jungle floor of Kilimanjaro. I'll let you decide what the flowers look like. Tropical seahorses? Fruit-flavored gummy candy? These playful little creatures prance around the plant all throughout the year. This is a cool-climate species that may not thrive in hot areas. It is extremely rare - I don't know anyone else in the US offering it online.
What the inch-long flowers lack in size, they make up for in eye-catching color and form. The orchid-like hood is a vibrant pinkish-red, blending into a curved, yellow tail. Inside the hood are a series of yellow and red markings. When the blooms are in the male stage, the stamens and pollen are a gorgeous purple! These flowers really capture the energy and spirit of the rainforest.
This is a perennial species that grows to about 18" tall and 2 feet wide. Its glossy foliage is lush and very attractive. The plant blooms almost constantly for me all year long! Grow it at eye-level so the flowers can be admired up close. These are truly adorable blooms, and it's always exciting when another one opens.
This Impatiens thrives between 50 and 75 degrees, and lags when temperatures climb into the 80s. I don't recommend this plant for consistently warm areas, particularly if nights are warm. It can tolerate dips into the 30s, but it needs protection from freezing temperatures. If you can provide the right conditions, you'll find this is an easy and very fun plant. Like most Impatiens, it prefers filtered sun or bright shade, and some humidity.
Occasionally a flower will be hot pink!
Detailed growing tips about this plant