.
I just love this plant! Agapetes 'Ludgvan Cross' is an unusual rarity in the Blueberry family with gorgeous, pendant blooms that look like little Chinese lanterns. Nearly all year long, these exotic flowers cover the plant, creating quite a show. Agapetes plants are hard to find and rarely seen for sale, so if you like what you see, keep reading!
Agapetes 'Ludgvan Cross' is a hybrid between Agapetes serpens and A. rugosa, both from the cool Himalayas. This evergreen plant grows to about 4 feet tall and wide, with gorgeous, arching branches that emerge from a large caudex. It flowers practically all year for me. The 1½ inch blooms have a fascinating chevron pattern of red or burgundy stripes on a pale background, with flaring, white tips. This is a vigorous hybrid with more flowers and a longer blooming season than its parent plant, Agapetes serpens (the 4th photo).
Agapetes (pronounced "Ag-uh-PET-eez") comes from foothills of the Himalayas where the temperature ranges from about 32°F to the low 80s, and nights are cool. It has similar requirements as its cousin, Rhododendron, although i don't know its cold-hardiness. I also don't know if it will thrive in hotter climates, particularly if nights are warm. It probably can survive a few degrees of frost, but it grows best above 40 degrees. You may grow it in a pot or hanging planter. It looks terrific when placed at eye-level, where the blooms can be admired up close! It does best in bright conditions, with some protection from strong afternoon sun. In the right conditions, it's an easy plant to grow.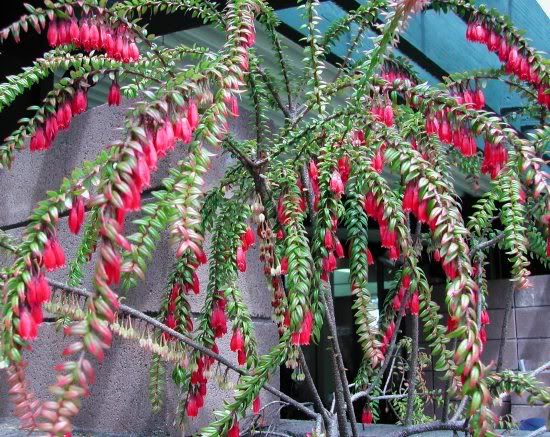 The parent plant, Agapetes serpens
Unfortunately fake seeds of it have emerged from China. I guarantee that i offer the genuine Agepetes.
Detailed growing tips about this plant