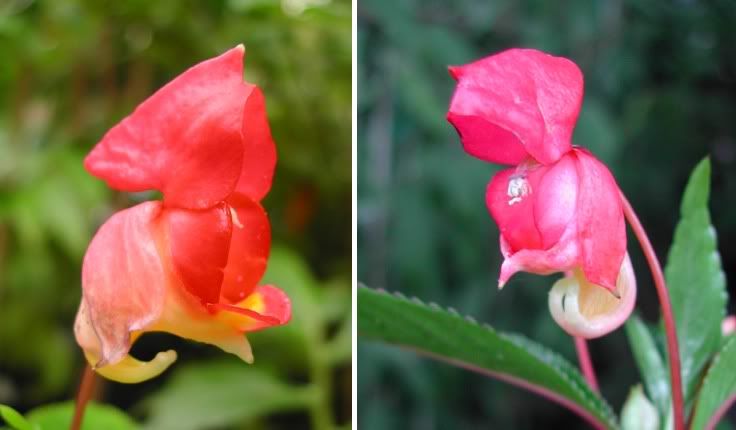 From the island of Madagascar comes this rare and intriguing species that you might not have seen before. Impatiens bicaudata not only has eye-catching flowers, but it grows to massive proportions - up to 6 feet tall! The flowers are hard to describe, but they sort of look like hooded birds. The sunset-y colors can change depending on the climate. If you're a collector of the weird and wonderful, you'll want to add this rarity to your collection. It is rarely seen for sale.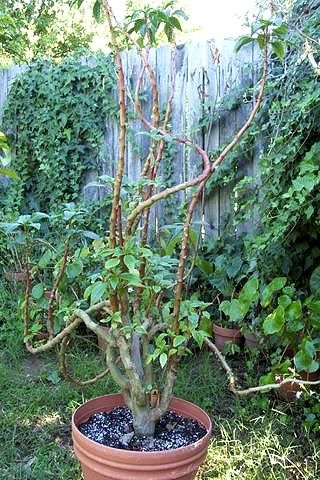 Impatiens bicaudata is a perennial species with upright, shrubby growth. The succulent stems develop a woody appearance with age and can get incredibly thick - up to 4 inches thick at the base! The oddball blooms appear in waves throughout the year. Here in cool San Francisco they have reddish tones, but in warmer areas they can be more pinkish. They have interesting yellow and red markings in the throat, and when the flowers are in the male stage, the pollen is bright purple!
This is an easy to grow plant, indoors or out. It's a Zone 10 tropical that should have temperatures above 50°. It can tolerate dips into the 40s, but i don't think it can survive any frost. Grows well indoors, provided that the air isn't too dry. This is a rainforest species that likes moist, rich, well-draining soil and filtered sun or bright shade. Too much mid-day sun may cause burning. Easily propagated from cuttings. This species may be crossed with some other Impatiens species to create new and interesting hybrids!