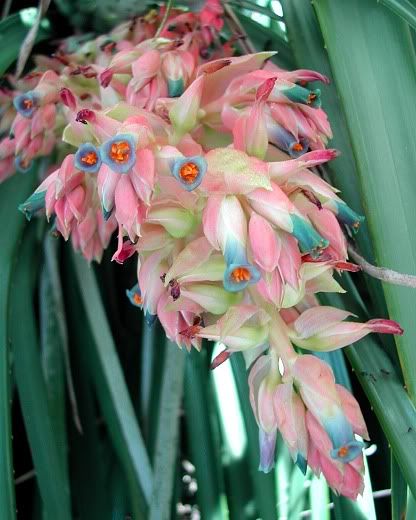 Full of color! The Pink Puya (Puya dyckioides) is a beautiful, rare Pineapple relative from Argentina that's rarely seen in cultivation. Not only do the flowers have a gorgeous color combination, but the colors deepen as the cluster matures! Unlike most Puya plants, which have very sharp and painful thorns, this one has tiny thorns that are barely noticeable! This exotic Bromeliad happens to be easy to grow, and reportedly can tolerate some frost.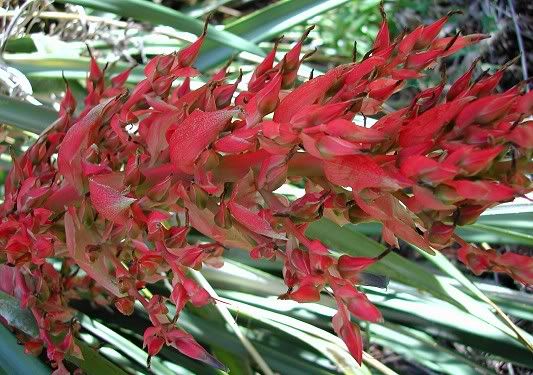 The Pink Puya has a grass-like appearance, forming a rosette of slender, arching 3-foot leaves. The plant sends out a large 3-foot flower stalk that arches outward for easy viewing. About 2 feet of the stalk is covered with flowers, each about an inch long. This is an "extra pink" form of the species from northern Argentina. The bracts start out a gorgeous flamingo-pink and slowly mature to a glowing lobster-red! The petals can range in color from turquoise-green to violet, with bright orange anthers and pollen. Most Puyas bloom only in spring, but this one can bloom from spring through late autumn.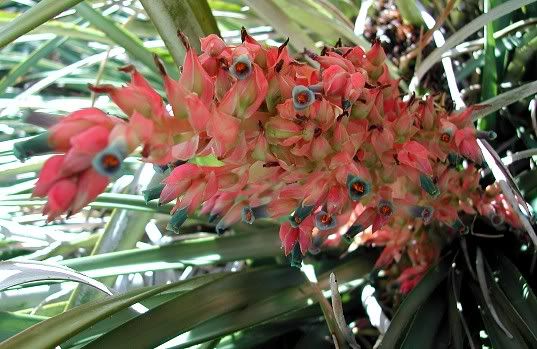 Over the years, it forms a large colony of offsets, which may be separated and grown in pots. A common complaint of Puya species are the large, sharp thorns on the leaves, but this one has tiny, soft thorns, making it much more "user friendly" in the garden! Be patient with the Pink Puya, as it will reach flowering size at 5-7 years old. You'll be rewarded for your patience with dazzling, large flower clusters each year.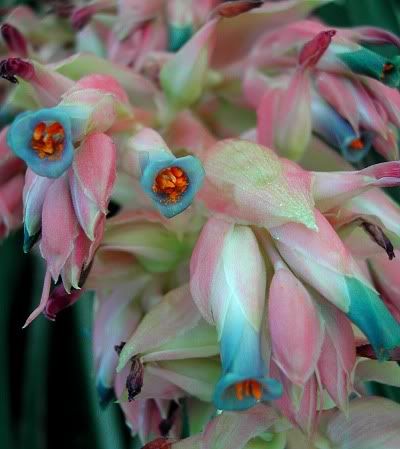 This terrestrial Bromeliad grows well in ordinary cactus soil, unlike the tree-dwelling Bromeliads. Mature plants reportedly can take take winter temperatures of 12-16°F (-9 to -11°C). Protect young plants from frost the first couple of years. It enjoys sun, but it might appreciate some afternoon shade in hotter climates. It likes a fast-draining soil mix. A typical mix is 1 part potting soil to 1 part perlite or coarse sand. In wet-winter areas, use extra perlite or sand. While it can tolerate drought, it looks best when given adequate water throughout summer.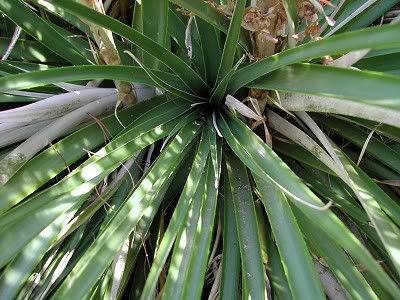 Germination tips for this plant